When you're looking to move, finding the ideal community can be stressful. Everyone's wish list for their perfect home is different, but there are usually a few things that overlap. Many people want a quiet neighborhood with friendly neighbors, an active community devoted to maintaining a peaceful environment, good schools, and plenty to do and see around town.

New Canaan checks all of these boxes. This city has seen a recent resurgence as the need and desire for remote work has increased. With more people staying close to home, the community is blossoming with new energy.

One of the significant draws of New Canaan is the elegance and charm that can be found throughout the city. Many local attractions are appealing to residents and visitors because of the unique, classical feel they offer.

One such attraction is Waveny House and the Waveny Park within which it resides. Waveny House was built in 1912 in the Tudor style and is surrounded by luxurious gardens. The design of both estate and gardens is distinctly reminiscent of the gorgeous manors of the English countryside, and both are named for a river on the Suffolk coast. Strolling through the house and across the landscape can feel like stepping into a work of classic British literature.

Waveny House was purchased by the city of New Canaan in 1967 and converted into a recreation area for the community to enjoy. Residents and visitors are welcome to explore the property and house and take in all the splendor they have to offer. This location is a sought-after rental for weddings, receptions, parties, meetings, and general functions.

As the weather turns to mild spring days with hints of the summer warmth to come, many residents take to the grounds of Waveny Park. This gorgeous park is around 250 acres and offers sprawling fields, rolling hills, and scattered woods, with Waveny House resting at its heart. Those who wish to explore all the park has to offer can take advantage of the nearly four miles of trails, which are perfect for a leisurely stroll or an energetic jog. These trails can be utilized year-round to stay active—consider starting a walking group!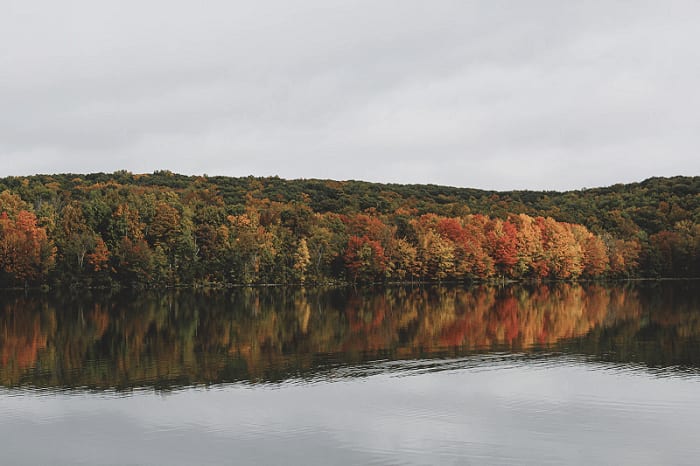 Other amenities include soccer, baseball, and softball fields, open areas to run around and enjoy the sun, and a specifically designated picnic area. The grounds also house platform tennis courts, a swimming facility, a performing arts center, a dog park, and a community center. If you find yourself needing a change of scenery, New Canaan also has six other parks you can visit.

Kiwanis Park is home to New Canaan's town swimming facility and is open June through August. With a play structure, basketball court, snack bar, and picnic area, it's the perfect place to pass the days of summer vacation. Mead Memorial Park is the ideal place to spend the days during the cold months with its lighted ice skating rink! In the winter, you can also ice skate in Mill Pond Park, and this park is ideal for long walks along the many trails. More information about these parks (and some others we haven't mentioned) can be found here.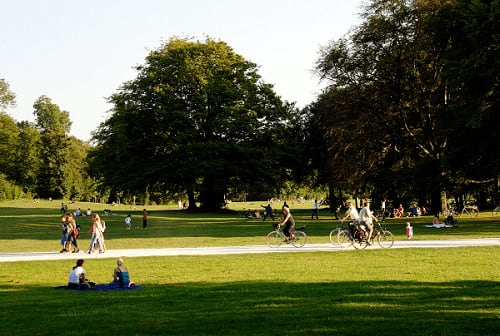 With so many different parks to choose from—many of which offer tennis courts, sports fields, and swimming holes—it's no wonder the town has seen a resurgence with the rise in remote work. Now that many of the roadblocks of a daily commute to the office are gone, residents have more time to explore everything New Canaan has to offer to the fullest. With a mobile hotspot and a carefully packed work bag, you could take your office with you to any one of these gorgeous parks!

While New Canaan has no shortage of shopping and dining opportunities, two must-see destinations are The Carriage Barn Arts Center and New Canaan Nature Park Center. The Carriage Barn Arts Center is a cultural highlight and the city's art epicenter. Founded in 1895, the center's mission, and the mission of the New Canaan Society for the Arts, is to "promote the visual and performing arts... enrich the community through exhibitions, education, and cultural experiences, and to operate the Carriage Barn Arts Center." Notable exhibits include the Annual Photography Show (over 40 years running), She is Rising, and Spectrum: Ode to Color.

New Canaan's Nature Park Center is a nonprofit environmental education organization that is "dedicated to inspiring people of all ages to respect, protect, and enjoy the world of nature." Its available programs are geared to suit school visits, adults, birthday parties, after-school opportunities, and community programs. Some notable events include Insects and the Making of the Modern World, The Planet: Protecting Half the Land to Heal the Earth, garden lectures, and annual events like the Fall Fair and Harvest Festival. (Photo by Leah Kelley.)

If you're looking to get involved in the community but aren't sure how to get the process started, New Canaan has more than a dozen clubs to join. The Lake Club "offers something for everyone" with activities like aquatics, tennis, paddle tennis, social events, and a sparkling lake to explore. The Lake Club Tigers are a children's competitive swim team that boasts an impressive list of accomplishments. The team, along with other aquatic programs, makes an effort to accommodate children of all ages and abilities. The tennis courts offer both competitive and social tennis programs for adults and children and lessons for anyone who needs to brush up on their game. Members are encouraged to take a paddleboat, rowboat, kayak, or canoe out of the lake to get the full experience and view of the lake. They even host an annual fishing derby.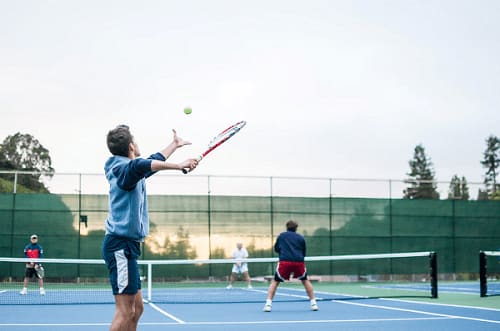 The New Canaan Field Club also offers a wide range of tennis and aquatic activities during the warmer months, as well as an active year-round social calendar. They have a fantastic pool for anyone looking to beat the summer heat, which can also be used as a lap pool. Other benefits include a diving area, a wading pool for small children, a snack bar, an outdoor dining area, and a locker and shower facility. While the pool may be one of the larger attractions of the club, their racquet sports options or stunning grounds should not be ignored. 

When the weather starts to change, and outdoor activities like swimming and tennis no longer hold the same appeal, the Winter Club begins to draw New Canaan residents. This club emphasizes privacy and enjoyment for the whole family. It was founded to give New Canaan residents a premier ice skating facility. Among the list of organized, family-oriented programs, you'll find skating classes, a youth travel hockey team, a girls hockey team, figure skating, and an adult hockey team. The shining feature of the Winter Club, though, is the spring-fed Hardon Pond. In the summer, the pond is bursting with diverse flora and fauna; come winter, the dedicated team that maintains the pond takes painstaking efforts to create a thoroughly enjoyable outdoor skating opportunity.

Many of the wonderful amenities offered to the residents of New Canaan are thanks to the hardworking New Canaan Department of Recreation. Their mission is to ensure the enhancement of residents' quality of life. Places like Waveny House, the Waveny Paddle and Mead Park Tennis Courts, Lapham Community Center, Senior Center, and local pools are all kept in prime condition thanks to this department's efforts. Their care and dedication allow residents to get out and enjoy the city, connect with one another, and create neighborhoods that balance luxury and family-friendly environments. The result is a city with friendly, community-focused energy that will quickly make you fall in love with New Canaan.

New Canaan is the ideal location for anyone looking to settle down in a place that has a little bit of everything. Not only do residents get to call this stunning city their home, but it's also close to Manhattan. A weekend trip or a day trip to the big city takes little effort, and you get to return from the chaotic island to the idyllic New Canaan. It also offers the benefit of being a town that isn't coastal but is still close to the beach—perfect for summer vacations!

If you're drawn to the idea of becoming one of the newest members of the welcoming New Canaan community, consider taking steps to purchase a luxury home here or neighboring Darian and Rowayton. You're sure to find your ideal mansion or condo for sale with the aid of real estate agent Rachel Walsh. Whether you're a first-time home buyer looking for a place with good schools and an active community to start a family or a seasoned shopper who would prefer a quiet, move-in ready property, she'll find the perfect fit for you.