A part of Connecticut's Gold Coast, New Canaan is known for its beautiful public parks and charming town center. This Fairfield County town is also one of the wealthiest communities in the country, boasting elegant and thoughtfully designed houses. New Canaan homes are as diverse as they are beautiful, ranging from new construction homes to mid-century modern abodes to historic properties. New Canaan was even home to five famous mid-century modern architects, known as the "Harvard Five."

With its abundance of classic New England properties, New Canaan has no shortage of home style inspiration. If you're looking to elevate the exterior of your home, try one of these sought-after curb appeal trends that are popular in New Canaan.

Captivating driveways and walkways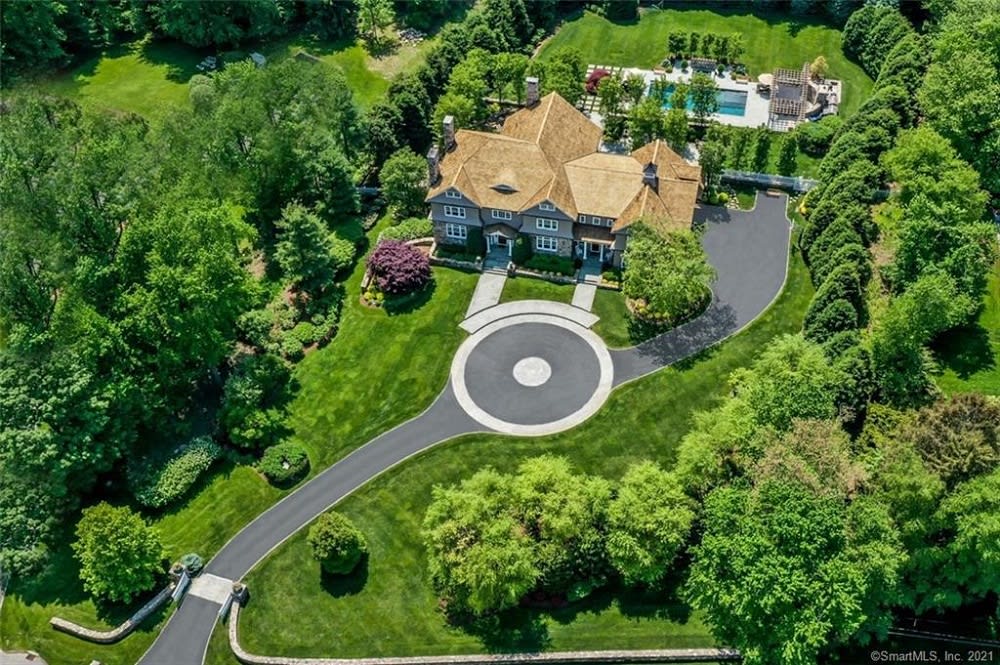 Many of the homes in New Canaan feature large captivating paths that lead to their entryways. To embody the classic New England look, use curved cobblestone, brick, or wide natural stones for the material of your driveway or walkway. If you want to add a design or pattern, tile art is a great option. Tile art can encompass a small arrangement of tiles that together create a mosaic, or, a single line of tiles that serve as more of a directional pathway. Each of these path styles will enhance the look of your property, regardless of the one you choose.

You can also add hardscaping along your driveway to give it more dimension. In landscape design, hardscaping includes any type of structure that is non-living. Popular hardscape elements in New Canaan include natural stone walls, wrought iron fences, and stunning outdoor lighting. Adding hardscaping features to your driveway provides organization to the surrounding natural areas.

Creating an appealing driveway gives your home an elegant introduction and welcomes visitors to your door.
Minimalist accents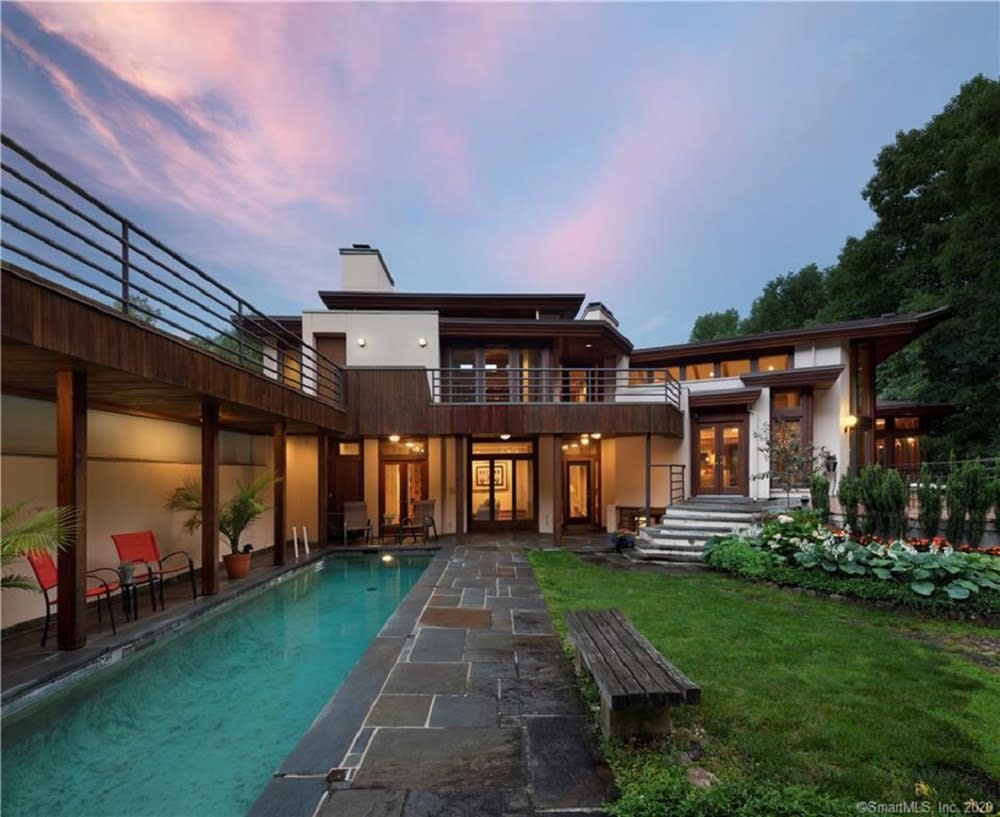 Industrial accents are all the rage in home design. Slate-colored metals are the most typical and tend to pair well with wood colors. With all of New Canaan's wooden-structured houses, adding pops of metal will serve as the perfect accent. If your house is more on the modern side, industrial details will add to its bold and edgy style.

Outdoor industrial pieces can include all-over metalwork, industrial-style decor, and indoor or outdoor cement tabletops. Incorporating wrought iron, concrete, or stone elements are all ways to amplify your curb appeal. So whether you decide to add an entire patio set or just a couple of statement-making decorative pieces, the mix of natural and man-made are sure to catch visitor's eyes.

Add some industrial accents to the outside of your home and see how they bring your exterior hues to life.
Wood-stained fiberglass doors
Although real wood doors are magnificent, they require a lot of maintenance as they are prone to water and sun damage, peeling paint, and chipping. Wood-stained fiberglass doors have become an alternate choice for homeowners throughout New England because they look like real wood, but don't need all the upkeep.

Fiberglass doors are aesthetically versatile, too. Create a captivating front door by pairing it with glass transoms. Or, paint your door a vibrant color to reflect your style. Fiberglass is both weather and moisture-resistant, which is key to withstanding all the weather changes in New Canaan.

With wood-stained fiberglass doors, you'll maintain all the Old World charm of a wooden door, but with much more design flexibility and none of the hassle.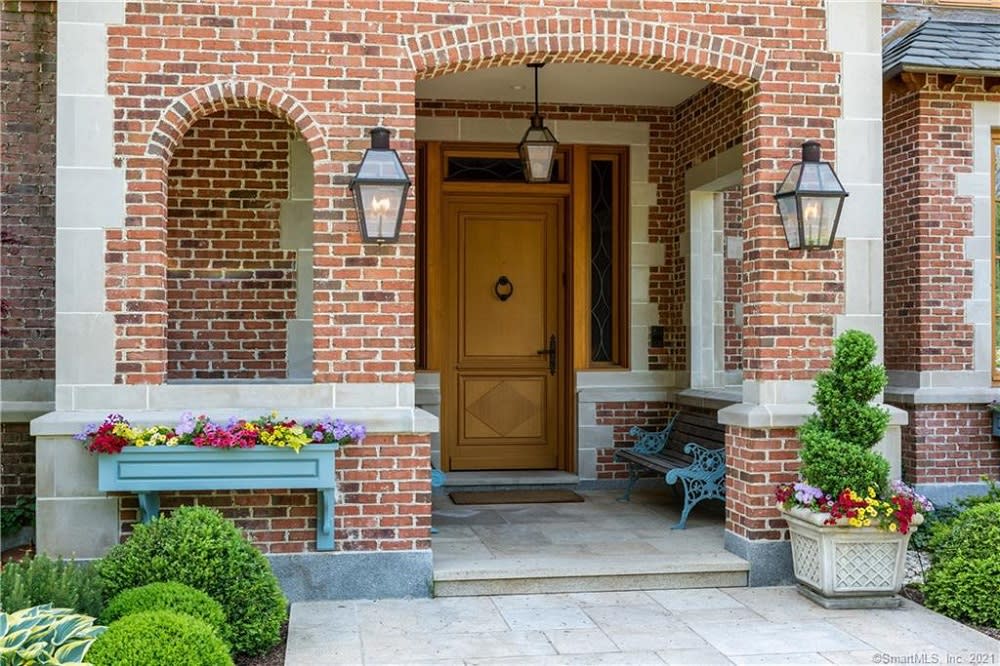 Expansive and decorative glass windows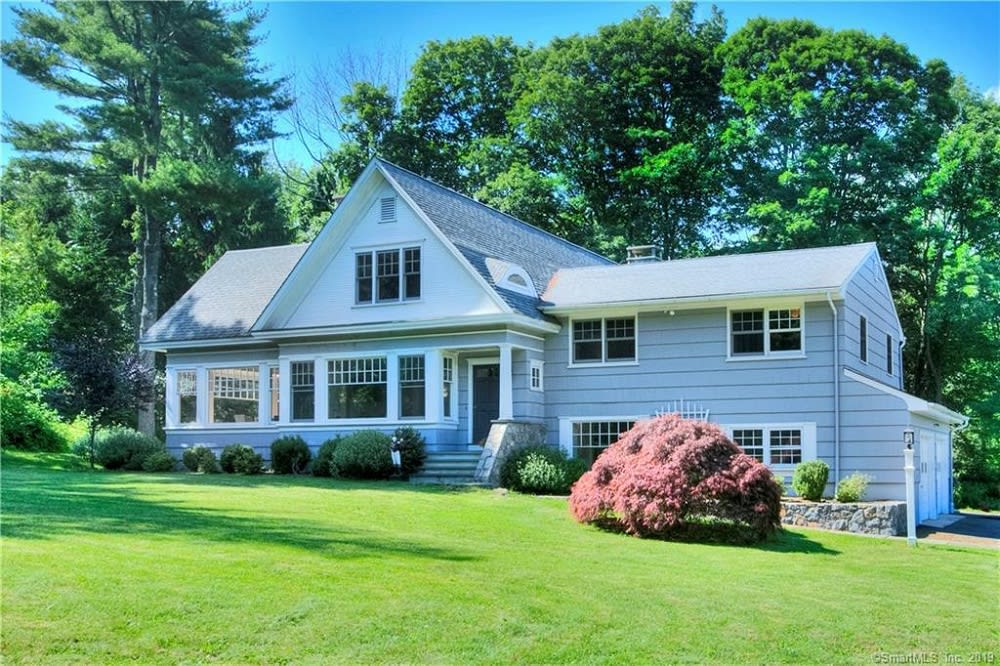 Installing large glass windows adds a dazzling effect to the front of your home. Not only do expansive glass windows boost curb appeal, but they allow for much more natural sunlight to flow into the home, too. If you have picturesque landscaping views from your home — which is often the case in New Canaan — then these fabulous windows will only add to your home's appeal.

There are numerous shapes and sizes to choose from when picking out exterior windows. Double-hung 12-over-12 windows are one of the most traditional New England styles. These types of windows have two workable sashes that smoothly open and close. Bay windows are also common, and instantly add charm to a home. Bay windows are stately and perfect for decorating during the holiday seasons. Geometric windows have become mainstream as well, especially in more modern New Canaan houses. These types of windows come in many different linear, radius, and arched shapes that make a home stand out.

Another way to stay true to the New England style is to choose windows with clean-cut lines. Since many of the home styles in New Canaan are symmetrical, windows with precise lines will help keep the New England architectural character alive.

If you'd like your windows to be even more ornamental, choose decorative glass. There is a wide range of decorative glass types, including frosted glass, patterned glass, laser-etched glass, stained glass, and fused glass. Each glass type has a distinct look, since the production processes are all different. When paired with wood-stained doors, these ornamental windows make a truly stunning combination.

Adding alluring exterior glass windows will make your New Canaan home feel even grander.
Vinyl and composite house siding
Just as wood-stained fiberglass doors have begun to replace real wood doors, vinyl and composite house siding has become an alternate solution to mimicking conventional wood siding on homes.

Composite house siding comes in all kinds of colors, styles, and shapes. If you are looking to stick to a colonial look, choose colors like nautical blue, white, and gray. The modern color palette for the exterior of homes is all about soft neutral palettes with soft colored accents such as on the front door or pillow for outdoor furniture. One of the most popular vinyl siding styles in New Canaan is weathered wood. This pattern mimics hand-cut wood that's been exposed to the elements, resulting in a rugged feel. For shapes, many New England homes use a combination of vinyl sidings to add more texture and dimension. A popular combination features traditional panels blended with vinyl scallops as would be seen on a shingle-style home.

Another advantage to vinyl or composite house siding is that it protects homes from harsh weather in both the summer and winter months. Plus, this material is low-maintenance and does not need to be repainted.

With many different options to choose from, vinyl house siding can make your New Canaan home more quaint, polished, or vibrant - whatever look you're going for!


Illuminate the driveway
Lighting up your driveway is an ideal way to create a moody outdoor ambiance. Luxurious driveway paths are common in New Canaan, so adding lights to this area allows them to be highlighted.

For an old-fashioned New England look, try uplighting historic or specimen trees. If your house is more contemporary, opt for inlaid lights, which are perfect for circular or curved driveways. Regardless of what style you choose, mindfully-placed lights will elevate the exterior of your home.

Options for lighting include solar and electrical. In terms of comparison, solar lighting is more cost-effective, while electrical lighting shines brighter.

Illuminating your driveway will create instant curb appeal while making your home extra inviting in the evening hours.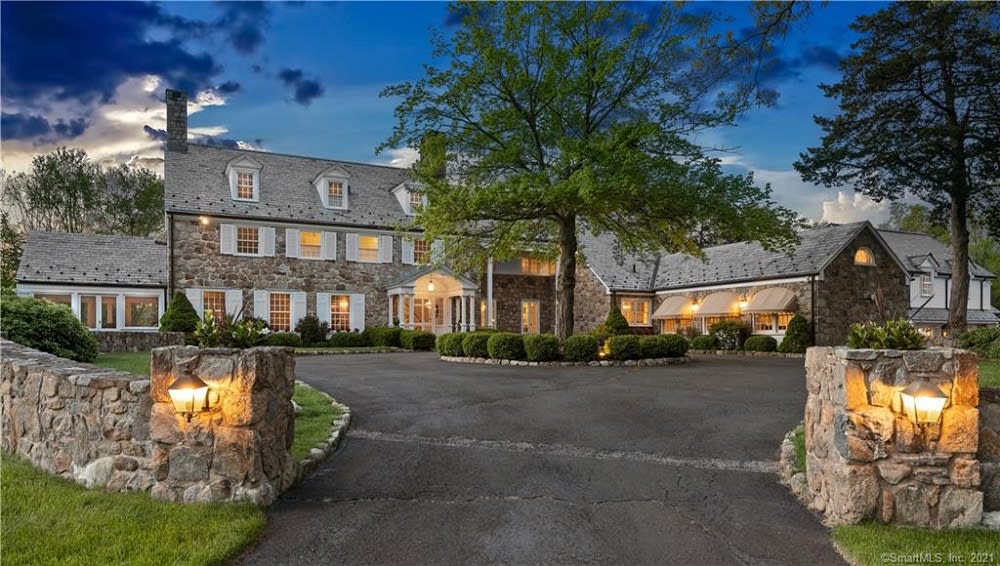 New Canaan Real Estate
If you're looking to buy or sell a home in New Canaan, Connecticut, contact Rachel Walsh. Rachel is a driven and dedicated real estate agent with extensive knowledge of the local market. Whether it be New Canaan mansions, Darien homes, or Rowayton condos, trust in the expertise of real estate agent Rachel Walsh.