Moving to a new town can certainly be intimidating. Every community is different, but getting involved early on is a surefire way to ease the transition. New Canaan is a community on the Gold Coast of Connecticut. With a median home price of $1.7 million, it's an upscale town just an hour train ride from New York City. This beautiful suburban area has plenty of restaurants and shops, as well as community-oriented activities. Let us show you the best ways to get involved.


Newcomers Club of New Canaan
One of New Canaan's biggest strengths is the support it offers newcomers. The Newcomers Club hosts several events throughout the year, all intended to help people meet and mingle. From cocktail parties to Halloween parties and women's tennis clinics, there's an activity for you and your family. You could also join one of the specific groups, such as the Working Women's Group, Craft Club, or Book Club. For kids, there are playgroups and Kids Club—a club that helps kids stay entertained with arts, sports, and food-related activities.
Young Women's League
Founded in 1973, the YWL is a charity group aimed at raising money for deserving local charities. The League hosts four major events per year, including the popular town-wide Easter Egg Hunt. The YWL also educates children about the importance of philanthropy through its sub-group, Little Rams Service League. Since 2001, the YWL has managed to raise over $1 million for local charities and is a great way to meet people while doing good.
New Canaan Nature Center
The New Canaan Nature Center is a "not-for-profit environmental educational organization" committed to inspiring people to respect and appreciate nature. Not only is the center a beautiful place to visit, but it's also a great resource when it comes to getting involved. The center is always in need of volunteers with a passion for giving back to their community. Do you love to garden? Help garden, propagate, and keep records for the greenhouse and herb garden. Animal lovers can volunteer to help feed the center's animals. The center also offers summer programs for teens who want to help maintain the center and learn about the environment.
New Canaan Places of Worship
New Canaan has a full roster of places to worship, no matter your creed. Joining a church is a great way to meet like-minded people and carve out space for yourself in the community. Some of New Canaan's many places of worship are Community Baptist Church, Church of Jesus Christ of Latter Day Saints, and St. Mark's Episcopal Church. The Chabad New Canaan Jewish Center is a fantastic resource for the area's Jewish community and offers Shabbat services, which is a wonderful way to connect with neighbors who practice Judaism.
New Canaan Parks
One of the best ways to meet people is by going outside! New Canaan is home to a number of parks and playgrounds with ample amenities. Pack your racquet for a game of tennis, stroll along walking trails, or relax next to any of New Canaan's glimmering ponds with an afternoon picnic. Kiwanis Park and Mead Memorial Park are great places to take the kids to play. Who knows, maybe you'll both meet friends!

Waveny Park has several beautiful hiking trails, a wonderful children's playground, multiple playing fields, the stunning Waveny Mansion for public activities, a dog park and a rare disc golf course. Waveny also has an impressive town pool, where you can swim recreationally or take lessons. New Canaan puts a lot of effort into maintaining its outdoor spaces, so you're guaranteed to see a number of people enjoying them.
New Canaan Theater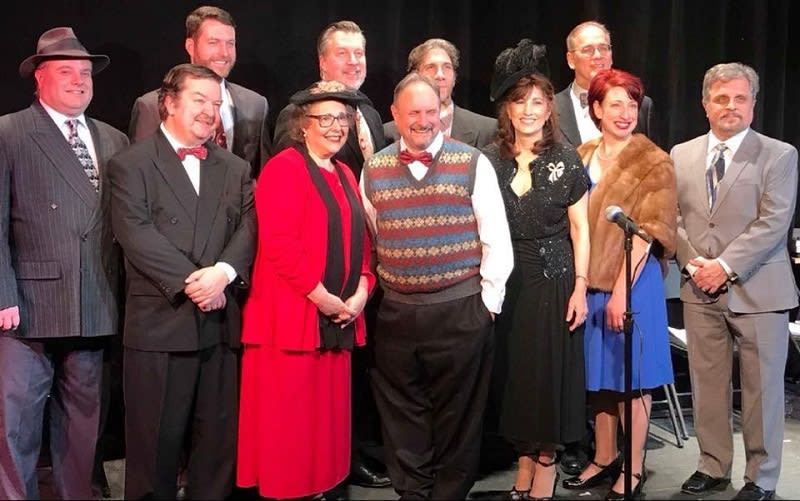 Credit: TPNC
New Canaan values the arts, both for children and adults. You don't have to travel to NYC to see a good show! The Town Players of New Canaan put on shows throughout the year, such as the One-Acts Festival. If you'd like to try your hand at performing, take their one-day acting workshop. You'll learn the basic fundamentals of acting alongside other interested adults. If you'd rather participate off stage, you could volunteer to help the theater's operations— costume design, set building, theater PR, ticket sales, etc. For kids, there's the Studio for Performing Arts. The Studio offers singing, acting, piano, and dance lessons (among many other options). They also run summer camps, which are great opportunities for kids to make new friends and learn new skills. Theater enthusiasts will love the Summer Theater of New Canaan, which puts on a season of exceptional programming that is fun for the whole family to enjoy. Participating in their Junior Company is a fantastic way for children to get involved in the arts and make new friends along the way.
New Canaan Men's Club
Since 1977, the New Canaan Men's Club has provided social and educational opportunities for men over 55. Each of their weekly meetings feature a prominent speaker. The club also offers a wide range of activities, from golf outings to pickleball to Cinema Club. The Men's Club allows you to filter your activities based on your specific interests, which is helpful when you're looking to meet like-minded friends. Membership applications are available online.
New Canaan YMCA
Memberships to the New Canaan YMCA provide access to so many fun activities for adults and children. Try a pilates class, or take swim lessons. The YMCA hosts an extensive list of youth development programming, including a nursery and extended day-care alongside competitive aquatics and gymnastics classes. The recently updated gym has plenty of room to accommodate guests and boasts a pristine weight room. The YMCA gives so much to this community, and giving back to the YMCA is a great way to meet people and do good. The YMCA offers one-time and ongoing volunteer opportunities. Bring your interests and talents to the YMCA and help enrich people's lives. You're guaranteed to meet new people and find a space for yourself within the YMCA community.
The Country Club of New Canaan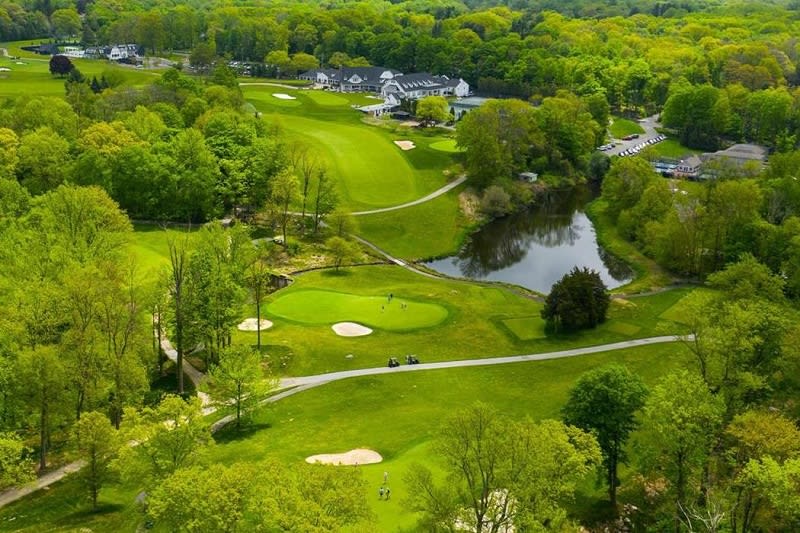 Credit: Country Club of New Canaan
The Country Club of New Canaan is a historical club that prides itself on creating strong community traditions. The club offers squash, golf, tennis, a pool, pickleball, and paddle. Each of these activities offers "programs" you can enlist in, which will help guide your journey. Take lessons, meet people, and enjoy this lovely community center. The ballroom and adjacent cocktail and dining rooms are the perfect places to throw events, and many people opt to get married here. With so much to offer, the club is a great place to make connections.
New Canaan Clubs
This community is home to numerous social clubs that help neighbors connect. Encore Club of New Canaan is a women-only social group intended to help women meet other women through fun social activities and events. Membership is open to all women who live in New Canaan and want to get involved. The club offers walking sessions, hikes, luncheons, and "critics corners"—meetings for discussing books and films. No matter your unique interests, the Encore Club has something for you. Another New Canaan staple, The Field Club, has been connecting community members since 1957. With swimming and tennis programs, this community helps foster lifelong friendships. The New Canaan Lake Club is an upbeat social and sports club with over 300 families in membership, so it's an excellent resource for making new connections, and the New Canaan Winter Club keeps families active all winter long with their hockey and ice skating programming.

Looking for a New Canaan real estate agent? Contact Rachel Walsh today!